Aero Cors-Air USA LLC is proud to introduce a new and more powerful version of the Cors-Air engine line, The Black Bull for 2022.
This engine was designed for those pilots who want even more power, shorter take-off runs and very high climb rates.
The new version of the Cors-Air Black Bull can be used for foot launch PPG, PPG Trikes, Delta Trikes, ultralight airplanes and UAV (DRONES)
This new powerplant is lighter than the older version and compared to other brands of engines in its class, it is sturdy, reliable and user friendly, just as the rest of the Cors-Air Motors engines.
With many tests on the bench and in the air, flown by well known PPG pilots and test pilots, in the harshest and most "unfriendly" environments,
the new version of the Cors-Air Black Bull 2018 passed all the tests with flying colors.
The very first Black Bull engines left the factory in Italy by the end of November 2015 and ever since, we did not hear from a single pilot who regretted buying this mighty powerplant!
After these years, it was a bold and logical step forward to imporve this powerful engine even further. This is how the new Black Bull 2022 version was born.
The new 2022 Black Bull is the most powerful engine in our "fleet" which consists of Cors-Air M19/Black Magic, Black Devil LIGHT and Black Devil LIGHT/SPORT.
The picture below shows the old version of the Black Bull engine: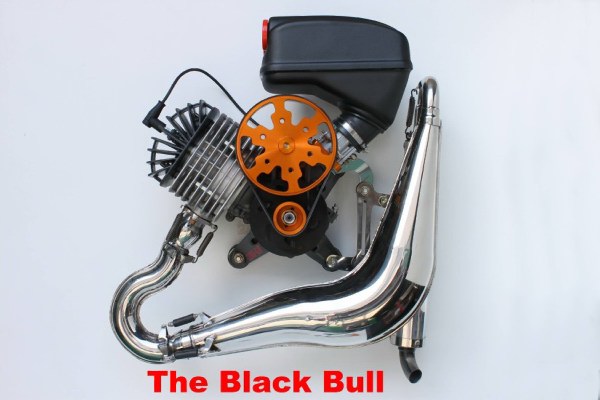 Below is the new 2022 version of the Black Bull electric start model: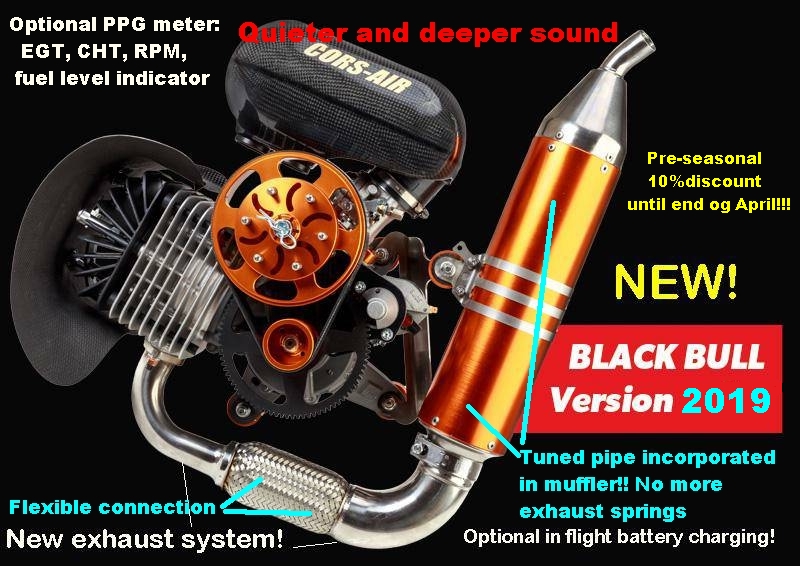 The cooling shroud shown above is optional
Below is a picture of the hand start model (2018 model)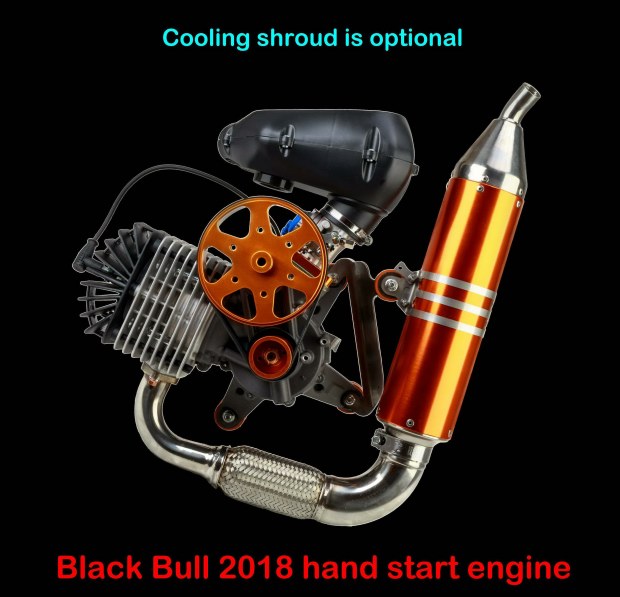 Comparing the first two pictures above the first thing we notice is that the new 2019 Black Bull has a simplified exhaust system.
The tuned pipe is incorporated in the muffler and this reduces the weight by about 1,2 Kg (2,64 pounds)
In the same time, the tone of the engine is deeper, quieter, more pleasant and with no metallic sounds that were caused by the vibration of the exhaust ball joints which as we can see, are completely eliminated! This is a new and unprecedented feature!
Also, the flexible connection now has FOUR (4) interior layers which ensure an absolut airtight connection with a very long life.
There are three versions of the engine:
a) Pure electric start
b) Hand start (flash start)
c) Hybrid engine (electric start and hand start)
For the 2018 engines we have a new aftermarket charging system (see below)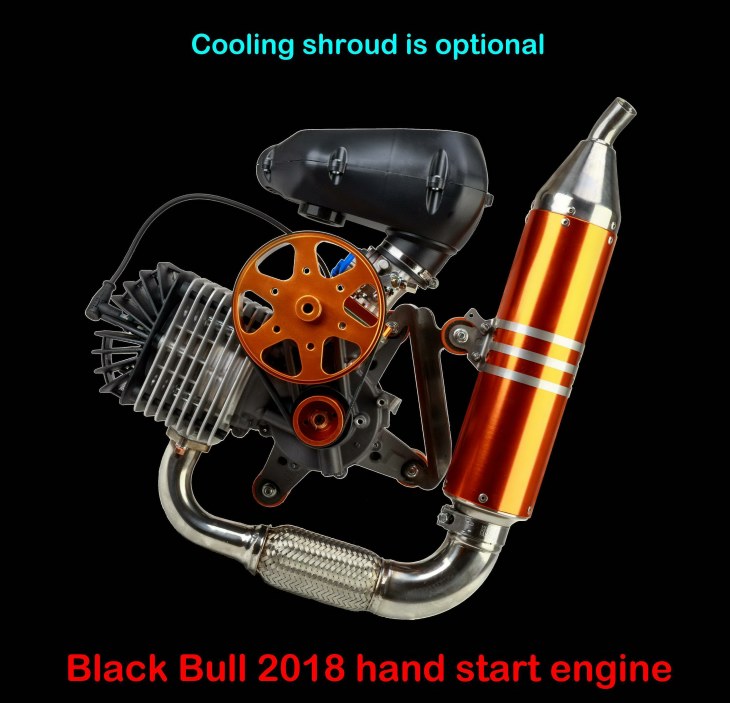 No other company offers so many versions of its engines except us!
Another improvement is that, as an optional kit, the Black Bull 2022 can be retrofitted with a battery charging system for a Sealed Lead Acid Battery and a different one to charge a LIPO (Litium Polymer Phosphate) battery!
Another optional item is the cooling shroud that must be purchased separately and this will lower the cylinder head temperature (CHT) by some 100 degrees Fahrenheit!!!
The charging system consists of an additional coil mounted close to the magnetic wheel which generates the charging current that is rectified and the voltage is adapted to charge a Sealed Lead Acid Battery or a LIPO battery (the LIPO battery needs more charging volts and this is why we offer two separate charging systems)
3f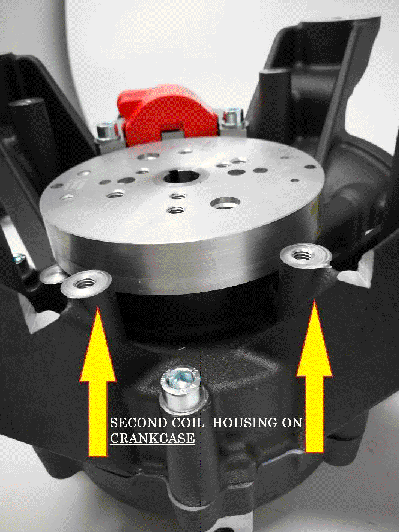 wordml013f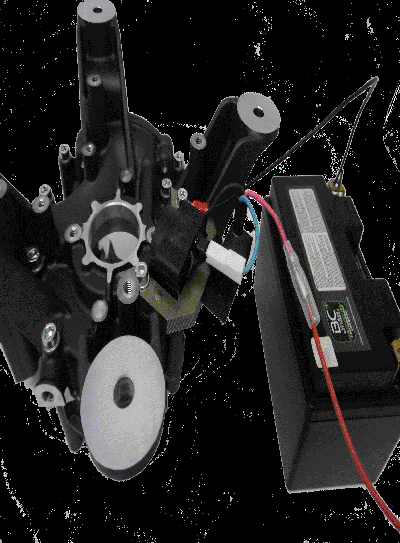 rdf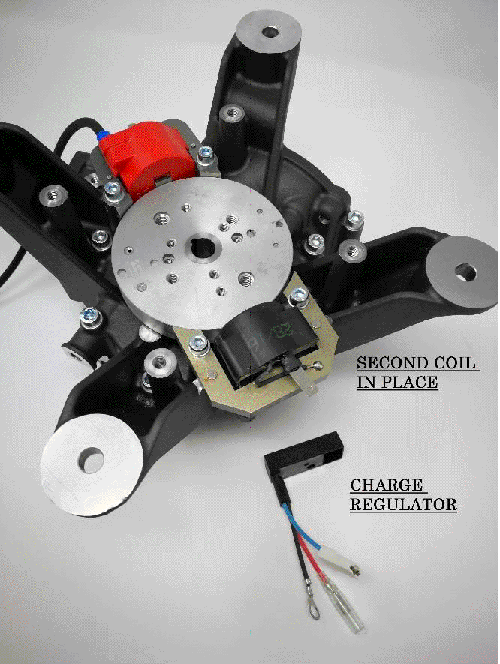 The price of the optional charging system for a Sealed Lead Acid Battery or a LIPO is the same: $175.00 plus shipping (battery NOT included)
http://schehttphttp://schemas.microsoft.com/office/word/2003/wordml013f
Cors-Air "Black Bull" engine specifications:

CYCLE: TWO STROKE

TOTAL DISPLACEMENT: 235 C.C.

BORE: 70mm

STROKE: 61mm
COMPRESSION RATIO: 10.5:1

COOLING: air cooled and with optional cooling shroud

Maximum RPM: 8000 RPM

PISTON: Two aviation rated chrome plated and beveled rings

Cylinder HEAD: CAST AND MACHINED Aluminum alloy with high silicone percentage

Combustion chamber with improved squish

CRANKCASE: CAST IN G-AL SI 9 UNI 3051 ALLOY SUBSEQUENTLY TREATED AND ANODIZED AGAINST SEA SALT

CONNECTING ROD:
COPPER PLATED STEEL
18 NI CR MO5
CONNECTED TO THE DRIVE

CRANKSHAFT: :WITH VERY PRECISE HIGH SPEED SILVER-PLATED ROLLER BEARINGS

CARBURETION: DIAPHRAGM OR EFI (ELECTRONIC FUEL INJECTION)

CRANKCASE FUEL DELIVERY: SIX BLADE REED-VALVE SYSTEM CONNECTED TO THE CRANKCASE

IGNITION: ELECTRONIC CDI (ELECTRIC VERSION) WITH DOUBLE SPARK PER STROKE FOR SAFETY AND CLEAN BURN

IN-FLIGHT BATTERY CHARGING SYSTEM NOW available

SPARK PLUG: NGK BR10ES OR SIMILAR

SYSTEM: SIX PORT DISTRIBUTION / CYLINDER TRANSFER AND EXHAUST WITH BOOSTER (TUNED EXHAUST)

CYLINDER: ALUMINUM ALLOY WITH SPECIAL "NICASIL" COATING

REDUCTION: WITH POLY V BELT AVAILABLE IN 1:3.0 — 1:2,88

CYLINDER HEAD TEMPERATURE: MAX TEMPERATURE 230C \ 446F MEASURED UNDER SPARK PLUG

EXHAUST: TUNED WITH 3 (THREE) THREE FLEXIBLE CONNECTIONS TO BETTER DISSIPATE VIBRATIONS

EXHAUST GAS TEMPERATURE:
NOT EXCEEDING 590 C \ 1094F

ENGINE MOUNTING: BY 5 SHOCK ABSORBING RUBBER MOUNTS (VIBRATION INSULATORS) (#5 mount) should support from under the engine

CRANKSHAFT ROTATION: COUNTERCLOCKWISE

CRANKSHAFT CONSTRUCTION:
18 NI CR MO5 ALLOY WITH 5 THERMO TREATMENTS ON EVERY COMPONENT

ROLLER BEARINGS: DESIGNED FOR HIGH RPM, CLASS C3

CRANKCASE OIL SEALS: DOUBLE LIP, MADE OF
"
VITON" WITH VERY HIGH RESISTANCE AND LONG LIFE

FUEL / OIL RATIO: MIXTURE 3% - 3,5% WITH SYNTHETIC OIL; SUGGESTED BRANDS: MALOSSI7.1—WLADOIL K2T
—ELF 2T MOTO, CASTROL TTS, HONDA HP2 FULLY SYNTHETIC RACING OIL

ENGINE WEIGHT: HAND START KG 15,15 Kg (incl. exhaust)
ELECTRIC START 16.00 Kg (incl exhaust)

ENGINE PRICE: $ 3,475.00 (same prioce for the el. start or hand start version for a limited time)
Engine schematics and dimensions in millimeters: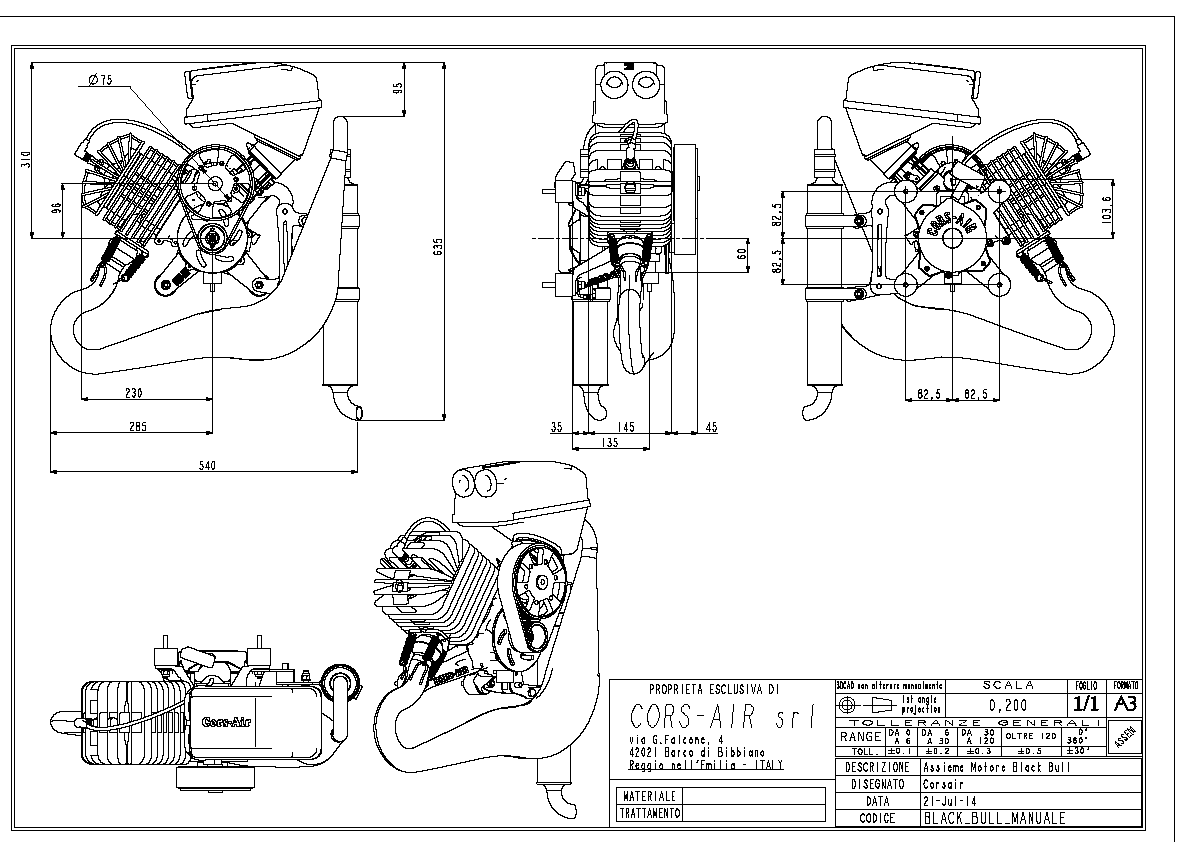 Simplified measurements in inch:
Engine Depth: 9 inch /distance between all 4(four) engine mounts (vibration insulators): 6,5 inch
Engine introductory prices for the 2019 Black Bull engine is the same as the price of the old version $3,475.00 plus shipping

Black Bull Electric start:
USD 3,475.00
plus shipping (cooling shroud optional) no battery charging

Black Bull manual start engine:
USD 3,340.00
plus shipping (cooling shroud optional)

Black Bull Hybrid engine (hand start and electric start) USD 3,520.00 plus shipping
The classic electric start or hybrid Black Bull does not charge the battery in flight.
However, as a new feature for 2018 an optional charging system can be purchased.
We recommend buying the Hybrid engine (with el. start and hand start) and using a 12 Volt Sealed Lead Acid battery
of 3,5 Ah capacity, one can get from 20- to 25 cold starts which is plenty for a flying session
NOTE: If five (5) or more engines are purchased in the same time, dealer's prices can be applied